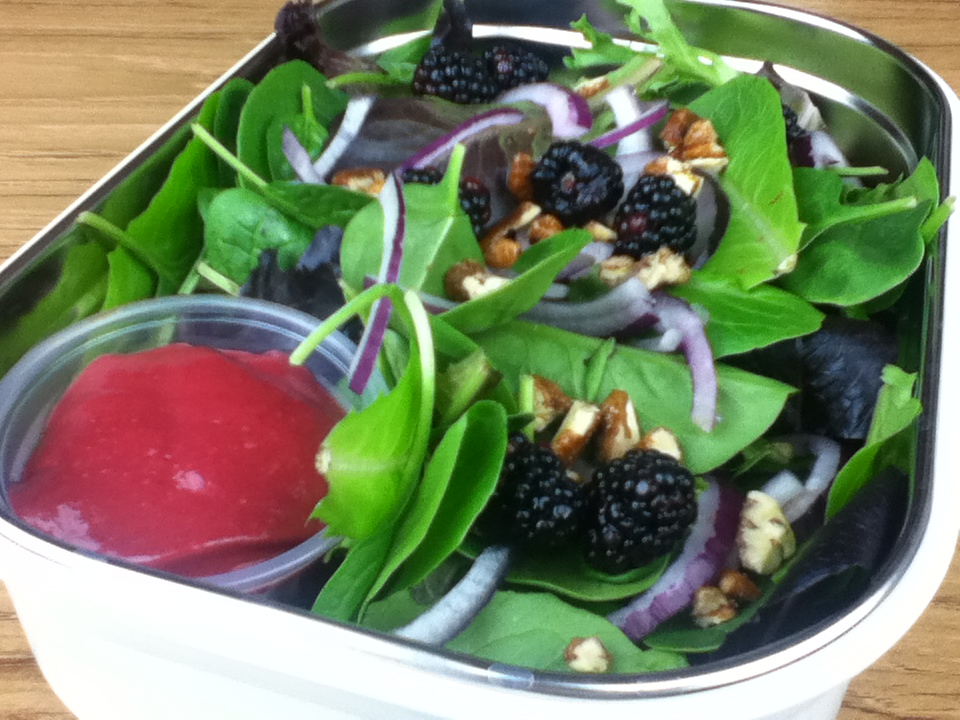 On the menu today is a Blackberry Salad with homemade Blackberry Vinaigrette. I started with a 50/50 Spring Mix/Baby Spinach lettuce and topped with fresh blackberries, thinly sliced purple onion, and honey toasted pecans.
The dressing is a tangy vinaigrette made with fresh blackberries, olive oil, balsamic vinegar, and dijon mustard. I threw all the crushed honey toasted pecans in the dressing for a little sweetening. It was very tangy. I love tangy dressing, but next time I make this, I'll add a couple of dates in there, too.
This salad was inspired by the concierge at Whole Foods who helped me build it from the blackberries and lettuce I had already selected.  Someday, I am hoping to meet someone who knows enough about salad making and can teach me how to build infinite combinations of salads.  What goes best with what?  What are the rules for finding a dressing match?  I have found that for smoothies, at least for my breakfast smoothies, and it really helps me keep it new and different all the time.  I'm always amused when my kids ask what's for breakfast when they know they are getting a smoothie.  They are asking what kind of smoothie I'm making for breakfast.  They never get tired of these smoothies.
If you want to get more ideas for packing a lunch for school or office, I am putting all these photos up on pinterest at: http://www.pinterest.com/careyfiles/pack-your-sack-lunch/