1.  Make a Schedule and Stick To It!!
It may sound appealing to imagine throwing out the alarm clock and sleeping till noon, for the rest of your life…but you have a business to build.  In the beginning, especially, it is time discipline that will eventually lead to time freedom. So, determine when your work hours will be and resolve to stick to it.  Your income will reflect the degree to which you can maintain this discipline over time.  Make it your goal to build a residual income that not only will allow you to throw out the alarm clock, but will allow you sleep till noon on a tropical island in a cabana….  I digress.
For now, determine when your work hours will be ahead of time.  I refer to this as planning for my future self.  I am always optimistic about my future self.  I will start my diet on Monday.  I will go for a walk tomorrow.  We know how confident we are in our future selves.  Our present self has a little more trouble being the idealized self.  We get distracted, off course, unmotivated.  So, planning ahead ensures you will set success-oriented goals.
Consider the Golden Hours of Prospecting when building your business.  It makes sense that it's best to call people when they are home.  When is this? This is a general guideline:  weekdays between 5:00PM and 9:00PM (during their time zone), Saturday between 10:00AM and 2:00PM, and early Sunday evening between 4:00PM through 8:00PM. Of course, there are plenty of people during the day like moms, retirees, the disabled, and those who are between jobs.  So, the best time to work your business is any time you can work your business. If you want to listen to a great training on The Golden Hours of Prospecting, check out this recorded call.
Planning ahead helps your family and friends know when you are free. You can even set your work schedule days, weeks, or months in advance.  Know you are going to be working so you'll plan other activities accordingly.  Plan vacation time, plan down time, plan social time, but plan work time first so you're sure you will get your work done first.  Human beings tend to work better with some routine and consistency.  Loosey-goosey might work for a little while, but it may allow other activities to creep into the "work day" and pretty soon, you'll either find you are having to stay up late to get your work done, or you put it off till another day.  You might even skip entire work sessions because life got in the way. Poor time management can have you feeling like you're working all the time and getting very little accomplished!!

2. Get Dressed and Sit At a Desk or a Table!
I realize this is personal preference, but nothing is less conducive to work than staying in my pajamas all day or lying in bed with my computer.  My brain fatigues faster and it feels more isolating.  There is something powerful about establishing a routine in the morning that includes a shower, dressing for the day, exercising, and having breakfast that sets the mind and body up for a successful work day.  Sitting up, at a desk, opens up your airways so you can breathe more normally.  It's virtually impossible to sit up straight for long periods on a bed.  Plus, sleep experts agree that bedrooms should be clear of electronics and anything work-related.  Keeping the office separate from the bedroom improves both productivity and sleep! That sounds like a win-win to me!
3. Set Productivity Goals not Income Goals
At the end of each sales day, enter your daily statistics such as the number of prospects calls, contacts, appointments set, proposals sent, number of sales closed and daily revenue to determine your sales ratio. Determine from these numbers how many prospect calls you need to make to reach a live person.  How many prospects do you interview to find a qualified person to take to the information about the company? How many prospects who get additional information end up in your business? How many voicemails do you leave?  How many emails do you send? How much revenue do you generate per sale?
These are the details that enable you to determine YOUR sales ratios.  If you know how many dials you must make to earn a commission, you can set prospecting goals to meet your income goals.  Research studies have shown that if you consistently track and set daily, weekly, monthly and yearly productivity goals you will mega-boost your sales success to the power of 10!
4. Don't Confuse Busy Work with Productivity
Two activities make money in this business:  sharing the products and the business with others and helping others in your business share the products and the business with others.  That's it!  Everything else is busy work.  Writing this blog post is busy work.  (Ironic, isn't it?) Posting it on Facebook, my blog, and my website is busywork.  Doing my videos…yep, busywork.  Obviously, you can't ignore them, because these activities have value, just like you can't ignore opening your mail, keeping track of your expenses, replying to email.  But, you have to relegate them to a lower priority than the two activities that make money.  If taking care of your income and helping your group reach their income goals isn't your first priority, then your income will reflect that.  Make it the most important activity you do every day and you can find time to fit in the other activities.  This is a critical shift people in business for themselves must make to be profitable.
Here's a great idea for keeping your priorities in order.  Place labels on the outside of the jar like "make calls", "take a guest to a meeting", "have a 3-way conversation with a prospect", etc.  You'll recognize these activities as activities that increase income.  Then put labels on the second empty jar like "take a vacation", "pay off debt", "get a new car", etc.  You'll recognize those activities as your "why".  These are the goals that motivate you to work hard.  The "Goals" jar is empty at the beginning of the week.  The objective is to do a money making activity and move a marble from the "Activity jar" into the "Goals jar".  More high-value activities means more goals met over time.
5.  Attend Corporate Events — Always!
When you're working from home, it takes initiative to connect with others in your business.  You may not have a running partner who is local; You may do all of your communications over the phone.  Attending the annual corporate events is an important time to connect face-to-face with people who are on the same path as you.  All the high earners are there because they know how important it is to keep themselves engaged and to motivate their people to stay engaged. You may not have a huge team or a huge bank account yet, but modeling the behaviors of the highest income earners will set you on the path to success.
Remember you are the leader of your team from day one.  What you do will duplicate.  If you lead with conviction, dedication, and a spirit of service, you will attract and keep others who lead similarly.  A few days spent with other leaders, corporate representatives, people you've sponsored into the business will fuel you for the rest of the year.  You will learn about your product, your company, the strategies others use to build their businesses successfully, all in a few short days that are also really fun!!  If you've intereacted with the corporate marketing department, or the sales staff during the year, this is the opportunity to meet them in person and put a face with a name.  Many people experience bonding at these events that changes the way they do business for the rest of the year.  It is a networking opportunity you don't want to miss.
6.  Commit Yourself to the Result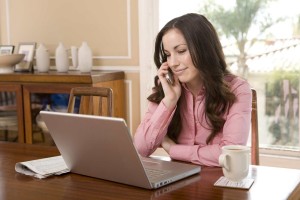 There is nothing quite like working a home business, and doing so has a lot of benefits. But don't believe the hype. Becoming self-employed means that your job role suddenly expands and you have several job descriptions, not just one. It may be easy to pick up the phone, but it is also easy not to pick up the phone.  No one will keep track of your daily activities, but you.  So, make a plan ahead of time and commit yourself to sticking to it.  Work high value activities first and fit in lower value activities second.  Take your work seriously, come to "work" prepared to work, take every opportunity to connect with others in your business in person, and enjoy the time freedom you will earn for yourself in the future.